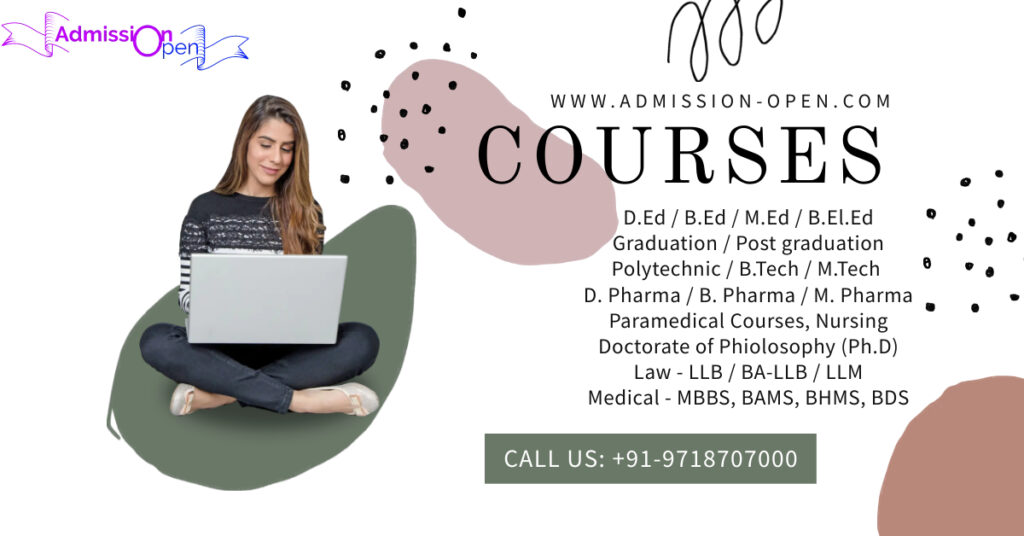 MBBS stands for Bachelor of Medicine and a Bachelor of Surgery is a degree program for students entering undergraduate courses. Bachelor of Medicine and Bachelor of Surgery are two advanced and professional degrees offered in the field of medicine. These are two separate undergraduate degrees that have been combined as one and brought under one name. Also, those completing this degree use the prefix Dr. irrespective of the fact whether they hold a PhD or not.
It is a 5.5 years course that involves one compulsory year of internship which must be completed from any college accredited by the National Medical Commission to receive an MBBS degree. The course is well structured to provide students with the necessary medical insights with increasing levels of difficulty over years. It involves teaching students what patient investigations will be helpful in the process of diagnosis and what are the best treatment options.
The one-year-long internship involves posting in different departments where along with course specialties, things like ward management, staff management, and counseling skills are learnt. The degree involves gaining thorough practical knowledge and performing standard clinical procedures.
The course opens the door for a vast number of opportunities and offers exposure as well.
During MBBS, several courses are being taught and the students tend to specialize in one of them. The list of the courses is as follows.
General Medicine
General Surgery
Ophthalmology
Orthopedics
ENT – ear, nose, throat
Dermatology
Psychiatry
Pediatrics
Obstetrics Gynecology
Anesthesiology
Apart from this, there are some extended specializations that require 3 to 5 years of further study in the following areas
Plastic Surgery
Neurosurgery
Pediatric Surgery
Endocrinology
Cardiothoracic surgery
Clinical Hematology
Genitourinary surgery
Gastroenterology
Eligibility Criteria for MBBS
The eligibility criteria for MBBS is as follows
The minimum age of the candidate applying for NEET must be 17 years.
The candidate must have passed in subjects Physics, Chemistry, and Biology from a recognized institute.
The qualifying marks for the unreserved category are 50%, 40% for OBC/ST/SC, and 45% PwD
Admission process for MBBS
Admission to MBBS is done through entrance exams and on a merit basis. Depending on how you perform in entrance exams along with 50% marks on Boards, the college is decided.
Entrance exams are the most common form of receiving admissions to colleges and universities. To receive an MBBS degree, you need to score well in entrance exams to get enrolled in high ranking universities.
There are several colleges and medical schools that provide admissions to students on the basis of their marks secured in class 12. Often, they select the students on the basis of their cut off lists as well. However, the number of such colleges is quite less in the country.
The NEET-UG or National Eligibility cum Entrance Exam for Undergraduate Courses is the common all India test for entry in all the medical colleges and universities.
Semester Wise Syllabus of MBBS
SEMESTER 1
Fundamentals of Disease and Treatment
Introduction to Medical Practice 1
Locomotor System
Cell Biology
Introduction to Embryology and Histology
Introduction to Molecular Medicine
SEMESTER 2
Health and environment
Healthcare Concepts
Basic Hematology
Respiratory System
Neuroscience 1 – peripheral system
SEMESTER 3
General Pathology
Neoplasia
Hereditary Disorder
Environmental Pathology
Immunity
Nutrition Disorders
SEMESTER 4
Systemic pathology
Haematology
Alimentary system
Common symptoms and signs
Cardiovascular system
SEMESTER 5
Clinical pathology
General pathology
Special pathology
Immunopathology
Growth disturbance and neoplasia
Infectious diseases
SEMESTER 6
Epidemiology of communicable diseases
Reproductive health and child health
Epidemiology of non-communicable diseases
SEMESTER 7
Geriatric disease
Infectious disease
Nutritional disease
Haematology and oncology
The disease of the immune system, connective tissues and joints
SEMESTER 8
Metabolic and Bone Disease
Endocrine Disease
Nervous System
Brain death, organ preservation, organ donation
Emergency medicine and critical care
SEMESTER 9
Environmental disorders, snake bites, and poisoning
Kidney disease
Nervous system
Emergency medicine and critical care
MBBS students are highly focused and require hard work to complete their journey. It takes a lot of effort to inculcate the entire knowledge about the human body and its functioning. MBBS students have the scope of employment opportunities in both the government and private sectors. Ranging from medical centres, healthcare facilities, laboratories to biomedical companies and emergency rooms, every department holds an opportunity for the students.
Career Opportunities
Medical Surgeons
Medical Surgeons are responsible for conducting the surgeries, providing the right treatment, and medical care to the patients. The surgeon, in simple terms, is usually the surgical team leader. Medical surgeons work and ensure that collaboration, coordination, and harmony is maintained among all the other leaders of the surgical team. The surgeons generally require another surgeon or an assistant to themselves, anesthesiologist, and nursing staff in the operating theatre. 
General Physician
As an MBBS graduate, you can start working as a general physician who can diagnose, treat, and cure patients' medical health issues. The physician treats the disease in early stages and refers it to a specialized medical practitioner if the conditions do not stabilize.
Paediatrician
Paediatrician refers to a doctor who specializes in treating kids and diagnosing their health issues. They know about the pattern of their overall growth and development and work in accordance with it. They perform necessary and detailed tests on infant as well as young children. The evaluation and observation of a child's health is done by a pediatrician. They undertake the queries of both parents and children and prescribe the required medicines and correct guidance to them.