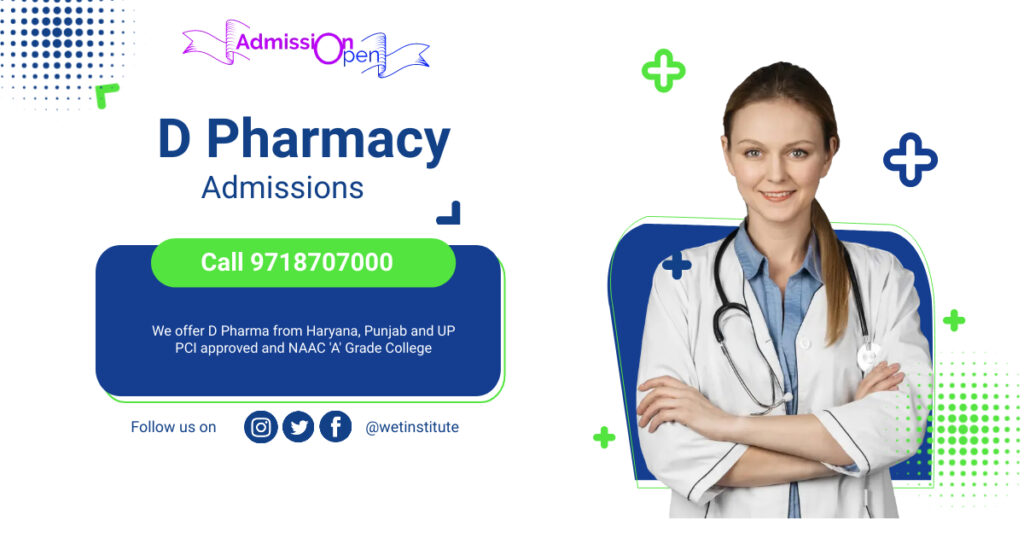 D Pharma (Diploma in Pharmacy) is one of the most entry-level courses for candidates looking out for a career in Medical and Pharmaceutical Sciences. This is a two-year course. The curriculum of D Pharma is specifically made to acquaint the student with a great understanding of the pharma industry. The course focuses on Pharma fundamentals and skills.
Students aspiring to be a professional in the Pharma field must know the admission process and eligibility criteria for the Diploma in Pharmacy.
The 2-year long program of Diploma in Pharmacy introduces students to some of the vital concepts of pharmaceuticals. It emphasizes the application of chemistry, chemical compounds, biochemistry, toxicology and much more. D Pharma enables students to learn the practical implications of chemicals, their applications, different types of chemical salts, medicinal use and much more.
There is considerable recognition and value of the D Pharma in the Pharma industry. Students holding a professional entry-level degree can get immense exposure. 
In order to be eligible for D Pharma here are the following criteria that a student must fulfill:
The candidate must have passed 10 +2 or an equivalent examination from a recognized board/university.
The candidate must have studied chemistry, physics, biology and mathematics as the mandatory subjects
The minimum aggregate required (open category) to be eligible for DPharma is 55% in the 10+2 examination
The minimum aggregate required (SC/ST/OBC) to be eligible for DPharma is 45% in the 10+2 examination
Some institutes do offer relaxation of 10 to 15% to the reserved category candidates
The candidate must also possess skills like research ability, analytics, critical thinking, problem-solving to pursue this course.
D Pharma Admission Process
The candidates who are eligible for the diploma in Pharmacy can move towards taking admission in the desired college/university or institute. The admission process to take admission in DPharma is simple.
The admission in Diploma in Pharmacy is done on the basis of the entrance exams. Every university conducts entrance examination for DPharma. It can be state level or national level entrance examinations.
Candidates securing fair marks in the entrance examination test can take admission to the university. There are few universities and institutes that conduct direct or merit-based admissions. The admissions in these universities and institutes are approved purely on the basis of the percentage obtained in the 10 +2 examination. Hence, it is imperative to check the admission criteria and entrance examination details while opting for DPharma admissions.
D Pharmacy Entrance Exams
To secure admission in DPharma here are some renowned D Pharma entrance exams.
AU AIMEE: AU AIMEE Pharmacy (Annamalai University All India Medical Entrance Exam Pharmacy) is a state level entrance examination. The entrance examination is specifically for pharmacy programs such as B Pharma, M Pharma, D Pharma and Pharma D
GPAT: GPAT is a national level entrance examination for those aspiring to take admission in Pharmacy programs. Many colleges and universities make a merit list based on the rank/score obtained by the students in GPAT. Generally, colleges conduct group discussions and personal interviews of students to enroll them in D Pharma.
The curriculum and course draft of DPharma is standard across all the universities. However, the syllabus of each subject may vary depending upon the institution. DPharma provides a basic understanding of the pharmaceutical industry. It introduces one to some of the important aspects of Pharmacy and provides a deep understanding of the subject.
Here is the detailed syllabus of the Diploma in Pharmacy two year program
| | |
| --- | --- |
| First Year | Second Year  |
| Pharmaceutics I | Pharmaceutics 2 |
| Pharmaceutical Chemistry 1 | Pharmaceutical Chemistry 2 |
| Biochemistry Clinical Pathology | Antibiotics |
| Human Anatomy Physiology | Hypnotics |
| Health Education Community Pharmacy | Pharmacology and Toxicology |
| – | Pharmaceutical Jurisprudence |
| – | Drug Store Business Management |
| – | Hospital Clinical Pharmacy |
D Pharmacy Course Content
Year I
Pharmaceutics I
Introduction to different dosage forms
Metrology
Packaging of pharmaceuticals
Size separation by Shifting
Clarification and Filtration
Pharmaceutical Chemistry 1
Acids, Bases and Buffers
Antioxidants
Gastrointestinal Agents
Topical Agents
Dental Products
Definition, History, and Scope
Pharmaceutical Aids
Various systems of Classification of Drugs and Natural Origin
Adulteration and drug evaluation
Biochemistry Clinical Pathology
Introduction to Biochemistry
Carbohydrates
Lipids
Vitamins
Enzymes
Therapeutics
Human Anatomy Physiology
Scope of Anatomy and Physiology
Elementary Tissues
Skeletal Systems
Cardiovascular Systems
Respiratory Systems
Muscular Systems
Health Education Community Pharmacy
Concept of Health
Nutrition and Health
First Aid
Environment and Health
Fundamental Principles of Microbiology
Communicable Diseases
Year II
Pharmaceutics 2
Reading and Understanding Prescriptions
Study of Various types of Incompatibilities
Posology
Dispensed Medications
Types of Powders
Lipids and Dosage forms
Pharmaceutical Chemistry 2
Introduction to Nomenclature of Organic Chemical Systems
Antiseptics and Disinfectants
Antileprotic Drugs
Pharmacology and Toxicology
Introduction to Pharmacology
Scope of Pharmacology
Drugs: Their Advantages and Disadvantages
General Mechanism of Drug Action
Drugs acting on the Central Nervous System
Pharmaceutical Jurisprudence
Origin and Nature of Pharmaceutical Legislation in India
Principles and Significance of Professional Ethics
Pharmacy Act, 1948
The Drugs and Cosmetics Act, 1940
The Drugs and Magic Remedies Act, 1954
Drug Store Business Management
Introduction
Drug House Management
Sales
Recruitment and Training
Banking and Finance
Introduction to Accounting
Hospital Clinical Pharmacy
Definition, Function, and Classification of Hospitals
Hospital Pharmacy
The Drug Distribution System in the Hospital
Manufacturing
Drug Information Service
Introduction to Clinical Pharmacy
Modern Dispensing Aspects
D Pharma Scope or Future Advantages
DPharma is one of the most promising and diverse courses that offer umpteen career opportunities. Post the completion of the course one may begin a bright career as a Pharmacist, Production, Executive, Analytical Chemical and much more. One can also opt for higher studies and go for B Pharm and M Pharma degrees.
Here are some of the areas and streams where a candidate can work after completing a diploma in Pharmacy
Research Agencies
Pharmaceutical Firms
Food and Drug Administration
Government Hospitals
Private Hospitals
Community Health Centers
Sales and Marketing
Clinics
After achieving a degree in DPharma lots of opportunities await the candidates in business as well as academics.
So, make the right move and go for a Diploma in Pharmacy to give a kick start to your career in the pharma industry.
After D.Pharma,  a candidate can move forward with their desired job.
or If someone wants to get a higher Education in the domain, He / She can enroll for B Pharma and then Masters Programme in Pharmacy  (M Pharma) for better opportunities and Research work.