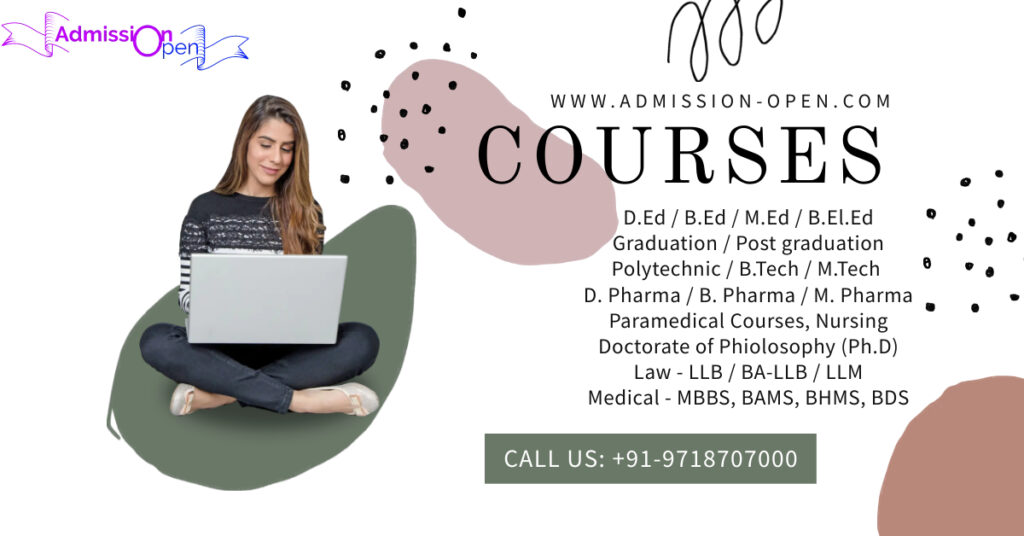 D.Ed stands for Diploma in Education. D.Ed also termed as JBT( Junior Basic Training). It is also called as D.El.Ed (Diploma in Elementary Education) in some states. D.Ed is a regular 2 year diploma level programme.  This course is quite necessary for Teachers/Candidates to acquire proper training in order to handle children at an elementary level.
This course helps students to develop themselves as a future Teacher by going through various classroom lesson plans, plan to teach, and assess tests and also provide both one-on-one and group instructions. Candidates who want to start their Teaching career after 12th standard, D.Ed is the best Course available for them.
D.Ed course is not much different than the B.Ed course but it provides you with a diploma certificate but not Bachelor degree in the Education course. D.Ed course make you eligible for teaching services in nursery schools but B.ed course makes you eligible to teach students of higher secondary school up to 12th standard. D.Ed course (Diploma in Education) include special teaching internships which enhances your knowledge and personality.
Information like D.Ed Admission Procedure, D.Ed Colleges in Delhi, Best D.Ed Colleges in Delhi, D.Ed Eligibility criteria, D.Ed Syllabus, D.Ed Curriculum, D.Ed Subjects, D.Ed Scope, Important dates for D.Ed Admission, Best D.Ed Colleges will be provided to you by our Expert Consultants who are already working since 2004 in Education Industry. Our motive is to make India grow and make best teachers for our coming Generations.
To connect with us, simply fill the form to get a call back or visit our one of the office locations and we will be more than happy to help you.
D.Ed Eligibility 
is almost same for all State Boards and Universities.
Minimum eligibility criteria required for the candidates to fulfill, to seek admission in D.Ed / D.El.Ed / JBT Course:
Candidates should have passed 10+2 or an equivalent examination with a minimum of 45% marks from a recognized university or Board.
The minimum percentage required might vary from one institute to another.
Graduates who are willing to take admission in D.Ed should have passed with minimum of 45% marks aggregate in Graduation from a recognized University.
At the time of application filing, Candidate's age should be between 17 and 28 years.
The candidates who have appeared for 10+2 or Higher secondary exams and are waiting for the results can also apply.
For more details or any doubt clarification, You can fill the form and arrange a call back for yourself or directly visit one of our branches. And we will be happy to guide you.
You can directly call us @
9718707000
. We are having Education Experts having more than 10 years of experience.
D.Ed Admission process can vary Institution to Institution . Various Universities/Boards take D.Ed Admission on Entrance exam and merit list basis.

For Merit Based Admission – For the Merit list, student's 12th Marks are considered. Board will allot a regular college on the basis of Merit list generated. There can be multiple merit list depending upon the seat availability in the colleges.

There are some colleges which can take Direct admissions as well.
As we know, it is a professional course, regularity in attending the classes / seminar / workshops / Internship and other activities are mandatory.
We are working with more than 47 Education colleges and have all the three options available.
If a student enrolls with us, he/she need not to worry about any of the admission process, we are here to take care of everything and guide you at every step.
We provide all the updates to each and every student via call / Email / Whatsapp.
Updates like Admission form date, counseling dates, last dates for B.ED Admission, Documents Required for verification, migration certificate process, scholarship process.
Students will be provided all the information with detailed Dates information when they visit our branch.
D.Ed is a 2 year diploma programme. Here Student learns a wide variety of subjects, Child Psychology, Education Psychology, Guidance and counselling, and many more. These subjects are important so that student can be prepared for working with Children and manage the teaching culture in School.
Below mentioned are few subjects which D.Ed student studies during two year of tenure.
Junior Basic Training (JBT) Syllabus
Syllabus of Junior Basic Training as prescribed by various Universities and Colleges.
Other than the Theory and Practical Examination, D.Ed curriculum also includes an Internship program of four months in a school.
D.Ed Scope or Future Advantages
Teaching is India is considered as one of the highest respectable profession as Teachers play a vital role in a student's life. Teachers are also known as the future makers of any country. Teachers are also termed as Nation builders. Teachers are always in heavy demand in both private and Government schools. After Completing your professional D.Ed diploma from a recognized Board / University, Student become eligible for a job of Teacher in a nursery Schools in both private and Government Schools.
After completing D.Ed Degree Student can apply for a teaching job as a permanent, temporary, part-time or full-time Teacher. Student can work in Schools, Education Department, Coaching Centers, Education consultancies, home and private tuitions, etc with qualified D.Ed Diploma.
If any Student doesn't want to work for a school as Teacher, he/she can open their own coaching institutions.

Student can also write Educational content, create online content for students , books, educational content writer, book reviewer. 
After
D.Ed, 
a candidate can apply for Government or Private Teaching Job. Or he/she can apply for higher Education in the Education Domain to advance their career in Teaching.
Student who want to get a Bachelor degree in Education to boost their career can apply for
B.Ed (Bachelor of Education).