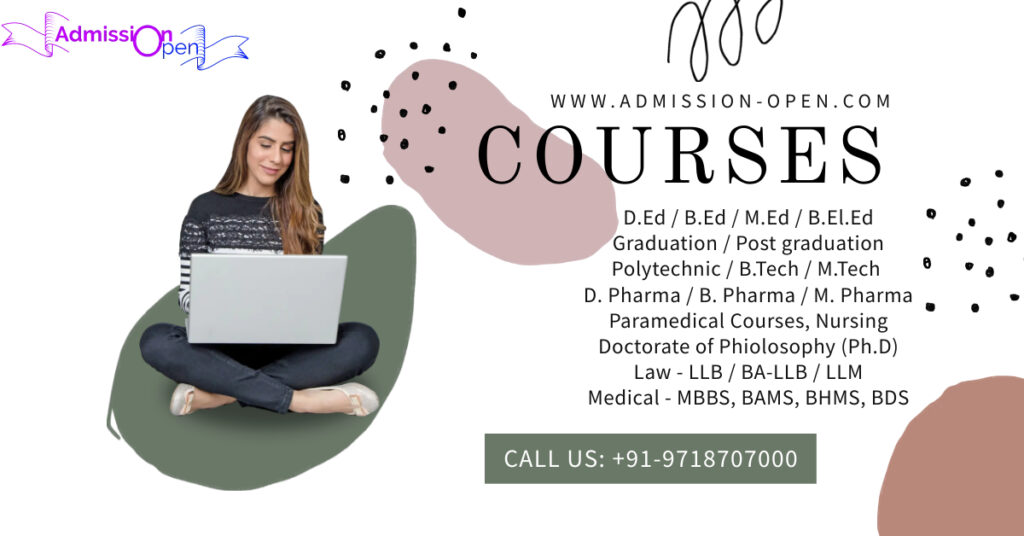 Bachelor of Technology is one of the most popular undergraduate courses for techno enthusiasts. The elaborate four-year course provides a great understanding of the field and refines one skill. B. Tech is a full-time course and is offered by the majority of universities and institutes. The course covers various aspects of engineering and allows one to do specialization in the area of interest. Some of the popular specialisations that this course offers include Civil engineering, Computer Science Engineering, Mechanical Engineering, Artificial intelligence, Electronics and Communications Engineering, Chemical Engineering and much more.
Tech provides one with in-depth knowledge of the industry and introduces one with the vital concepts of the stream. The course includes both theoretical knowledge as well as practical implications. Bachelor of Technology opens new doors of opportunities for the aspirants.
The minimum eligibility criteria to pursue B. Tech is 10+2 along with PCM (Physics Chemistry Mathematics)
Candidates aspiring to specialize in Biotechnology, Biomedical engineering must have completed 10+2 with PCB (Physics, Chemistry, Biology) from a recognized board/university.
The minimum aggregate mark to secure admission in B.Tech is 50%. However, it may change depending upon the college or institute.
Age limit: Some colleges and universities do have some age limit for B. Tech admissions. Usually, the age limit for B. Tech is 24 years.
The admission process to secure admission in Bachelor of Technology is given below:
Admission for Bachelor of Technology is granted based on the merit/marks obtained in the entrance examinations.
The centrally funded colleges and universities provide admission on the basis of marks secured in JEE Mains and JEE advanced.
The admission in state or regional colleges is done on the basis of the marks secure in the state/regional examination
Some colleges/universities have their own entrance examinations such as VITEEE, BITSAT, SRMJEE etc. Admission to these universities is granted on the basis of the merits/marks obtained in entrance exams.
The Bachelor of Technology offers an extensive range of professional fields to the students. One can opt for specialization from a variety of options.
A student gets exposure to more than 70 subjects in B. Tech. Hence, B. Tech is one of the most in-demand and popular undergraduate programmes in India.
BTech Artificial Intelligence
A student with a keen interest in technology and programming can opt for B. Tech in Acritical intelligence or machine learning. This is a four-year undergraduate program that comes under engineering guidelines. The course trains one by acquainting one with complex algorithms and computer programming languages like Python. Java etc.
BTech Biotechnology
Biotechnology deals with antibiotics, microorganisms and their commercial implementation. In this specialization, a student learns to discover bioscience and technology. It enhances the analytical skills of the students and provides them with a deep understanding of bioscience.
BTech Computer Science
Bachelor of technology in computer science and engineering focuses on the computer programming basics as well as networking. In this course, a student will learn about calculations, testing, programming, automation and much more.
BTech Mechanical Engineering
Tech Mechanical Engineering specialization covers the basics of heavy equipment and its operations. In this course, a student will study construction, designing, utilization of machines, designing etc.
BTech IT
Bachelor of Technology with specialization in information technology is quite similar to computer science and engineering. In this course, a student learns about the development and maintenance of systems, networks and computer software.
BTech Civil Engineering
Tech in Civil Engineering introduces one with the quality control, material, geodesy, design, structural engineering, testing and much more. Post the completion of B. Tech Civil engineering one can start a career as an assistant inspector, executive engineer, civil engineer etc.
BTech Electronics & Communication Engineering
BTech Electronics & Communication Engineering provides one with extensive knowledge on research, design, testing and development of electronic devices and systems. By pursuing B TECH ECE one can commence a career as a Radio Frequency engineer, production engineer, Design Engineer, Testing engineer and much more.
BTech Specialization List
BTech Food Technology
BTech Chemical Engineering
BTech Aerospace Engineering
BTech Agricultural engineering
BTech Marine engineering
BTech Cyber Security
BTech CSE
BTech Aeronautical engineering
BTech Biomedical Engineering
BTech Computer Engineering
BTech Dairy Technology
BTech Software Engineering
Scope or Future Advantages
A course in B. Tech opens a plethora of career opportunities in the field of technology. Depending on your field of specialization you can pursue a job as technical personnel or even a managerial position in various industries. Every specialization can help you pursue a career in the same field or a similar field.
For example, a B. Tech in Computer Science can help you become a software engineer, a coder, a software tester, telecommunications engineer and so on. You can also pursue careers in the field of Artificial Intelligence, Data Analysis, Neural Networks, Data Mining and so on. You can also work as a Web Designer, SEO expert and so on. Some companies that actively recruit BTech graduates are Infosys, TCS, Cognizant, Accenture and so on.
In addition to pursuing a career in the field of specialization, a BTech course opens the opportunity to pursue a master in the same field of specialization and also pursue a PhD. In fact, getting admission for the MTech course requires B. Tech as an eligibility criterion. Apart from pursuing a career in the same field, you also get to pursue Masters in Administration or MBA from reputed institutes. All top management institutes in the country have the majority of students with B. Tech degrees.