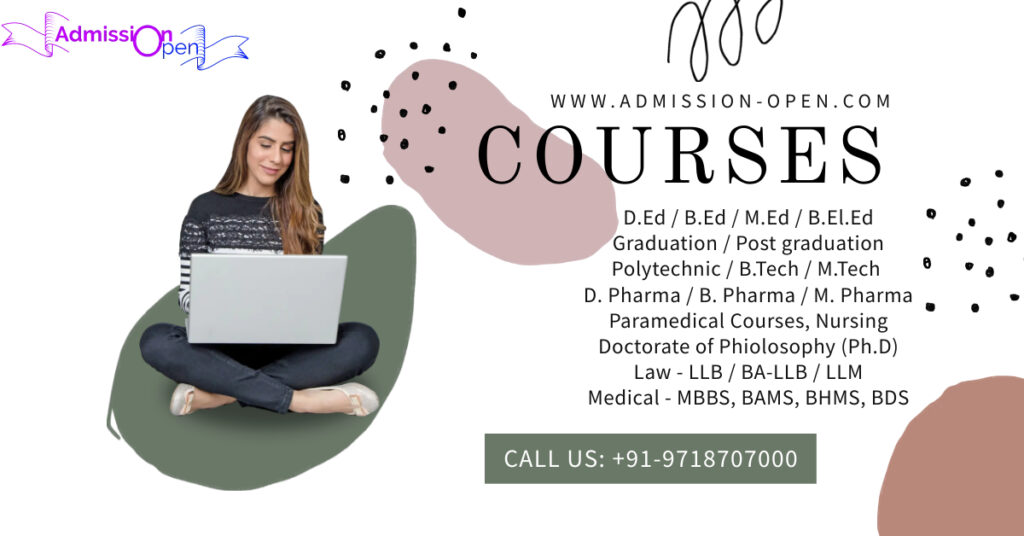 Maharshi Dayanand University is one of the renowned universities in India. The institute is popular for its excellent faculty, teaching methods and apt curriculum. Moreover, the campus and infrastructure of Maharshi Dayanand University are one of its strengths.
M Tech is a full-time program offered by Maharshi Dayanand University. The Masters of Technology can be done by a student in various fields such as Bio-Technology, Computer Science & Engineering, Electronics and Communication Engineering, Manufacturing and Automation, Software and Mechanical Engineering. The master's program provides one an in-depth knowledge about the chosen field and refines their skill.
Candidates who have already done their bachelors in technology can opt for MTech. An M Tech degree can open newer doors of opportunities and provide one with immense exposure in the Technology sector.
Maharshi Dayanand University M Tech is provided at the post-graduation level. It is a two-year program.
The eligibility criteria for M tech is BE/ BTech or equivalent from a recognized university with a minimum 50% aggregate.
Note, some institutes do consider scores obtained in GATE as one of the major criteria for admission.
Admission Selection process
The admission selection process at Maharshi Dayanand University is associated with the eligibility criteria. The students/candidates must fulfil basic eligibility requirements to secure admission for M Tech.
The Students meeting all the eligibility criteria are shortlisted for personal interviews and counselling by the admission department.
The Maharshi Dayanand University M Tech admission is granted based on the score obtained in GATE followed by CCMT
Students can apply for M Tech admission on the official portal of Maharshi Dayanand University.
For admission to M Tech, visit the official site of Maharshi Dayanand University
Click on the admissions, choose M Tech and desired course from the Dropdown
Enter student details and submit the required documents.
Once the documents are approved, one will get a notification from the admission department for a personal interview and counselling.
Based on the interaction in personal interviews and counselling sessions, the candidates can proceed further.
After receiving admission approval, one can move forward with the payment of the fees.
After completing the admission process, the student will get an email confirmation from the university confirming the admission for M Tech.
Here's the list of documents required for admission to Me Tech
Original Certificates of 10+2 exam
Self-attested copies of Certificates
Graduation Marksheets and Certificates
Character Certificate
Certificate of Domicile
Maharshi Dayanand University, [Mdu] Rohtak M.Tech Courses List And Fees Details
| | | |
| --- | --- | --- |
| Course | Duration | Total Tuition Fees |
| Master of Technology [M.Tech] (Biotechnology) | 2 Years | ₹1.23 Lakh |
| Master of Technology [M.Tech] (Computer Science and Engineering) | 2 Years | ₹1.23 Lakh |
| Master of Technology [M.Tech] (Electronics and Communication Engineering) | 2 Years | ₹1.23 Lakh |
| Master of Technology [M.Tech] (Manufacturing and Automation) | 2 Years | ₹1.23 Lakh |
| Master of Technology [M.Tech] (Mechanical Engineering) | 2 Years | ₹1.23 Lakh |
| Master of Technology [M.Tech] (Software Engineering) | 2 Years | ₹1.23 Lakh |
M.Tech Scope or Future Advantages
In India, engineering is one of the most widely chosen career options. A bachelor's degree in computer science, mechanical engineering or electronic engineering can provide you with some good opportunities in the industry. However, if you want to get an extra edge and give your career a kick start then, a masters degree is a must.
Masters in Technology broadens the horizons of your knowledge. It introduces you to vital concepts and clears your fundamentals. A candidate completing the master degree with specialization gets immense recognition in the market.
Here are various career opportunities and options that one can pursue after M Tech:
PhD or Doctorate: If you are passionate and have amazing analytical as well as research skills then, a PhD/doctorate after completing MTech can be advantageous. It can allow you to upscale yourself and pursue your passion.   However, for a PhD, it is essential to choose a unique and extensive topic for research.


Job: You can start directly working as a professional after receiving an M Tech Degree. The candidates with a master degree surely get an attractive package and a good profile too. You can get a high salary as you have a better understanding and wide knowledge about the technicalities and practical implications.
After M Tech you can easily get a job in research and development organizations, manufacturing firms, engineering It firms etc. Some roles and profiles offered to M Tech candidates include Project manager, Research associate, Senior Engineer and much more.


Teaching as a profession: The education sector in India is growing at an enormous speed. The scope in the academic field is huge. Post completing M Tech you can take up teaching as a profession. There is good demand for skilled teachers in various deemed universities, colleges and educational institutions.  However, to join a professional teacher one must have excellent communication and presentation skills, the ability to interact and engage students and stay updated with the latest happenings in the sector.


Start your venture: If you have an amazing understanding of the business and zeal to make it big then. You can start your own venture. You can even get funding from financers and venture capitalists if your idea of business is distinctive and unique. To be a successful entrepreneur you must use the right combination of your knowledge, expertise and skills obtained during the M Tech degree course to draft and execute a full-proof business plan.